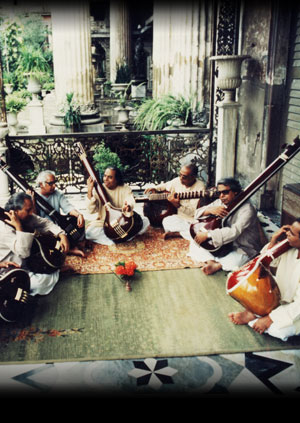 Dagar Brothers
Grandsons of Zakiruddin Khan and Allabande Khan - The Dagar Brothers - from left to right - Ustad Zia Fariduddin Dagar (b1933), Ustad Nasir Zahiruddin Dagar(1932-1994), Ustad Rahim Fahimuddin Dagar(b 1927), Ustad Nasir Aminuddin Dagar (1923-2000), Ustad Zia Mohiuddin Dagar (1929-1990), Ustad Nasir Faiyazuddin Dagar (1934-1989), Ustad Hussain Sayeeduddin Dagar(b1939).
The eldest brother of this generation Ustad Nasir Moinuddin Dagar died in 1966 in the prime of his career. This picture was taken in the early 1980s in Calcutta.
Nasir Moinuddin and Nasir Aminuddin Dagar formed a very successful duo and were known as the Senior/Elder Dagar Brothers. Their younger brothers Nasir Zahiruddin and Nasir Faiyazuddin Dagar also performed as a duo and were known as the Junior/Younger Dagar Brothers. These eight grandsons of Zakiruddin and Allabande Khan (Dagar) are credited with keeping the Dhrupad tradition alive during the period after Indian independence when the patronage of the royal courts and a musically cultured and informed aristocracy was gone and classical music in India had to survive on the patronage of the new Indian state run by bureaucrats and politicians.
Site design and development SM